Mission Black Ops is an unusual Alpha Team Returns subtheme. It features only one agent, Agent Vent and was released on an irregular basis in 2041 and 2042.
Agent Vent
, is sent alone on a Top-Secret mission. He has to find the mystical Stankhar stones before the recently-reactivated robot minions of
Dr. Inferno
.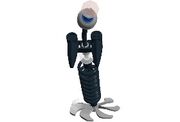 Minifigures
Edit
More to follow
Infernomission
Edit
This counts as an Infernomission because the villain, Kronoclops was a robot created by Dr. Inferno before he was defeated.