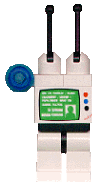 Tee Vee

Model name

ITV1000

Colors

Blue/Gold

Subthemes

curuntly unknown

Creator

Tools

Multi-tooled arm
Tee Vee is Alpha Team's communication robot. He helps Alpha Team out, by sending signals and messages, and is considered a member of the team.
In the first year of Alpha Team, Tee Vee was basically a television with legs.
In 2002, (Mission Deep Sea) Tee Vee was changed into an ROV.
In Mission Deep Freeze Tee Vee was changed into a human-sized android.
AlphaTeam
Edit
He returns in AlphaTeam again, looking very similar to Tee Vee 3.0, but in blue instead of silver and wearing a robo-arm.