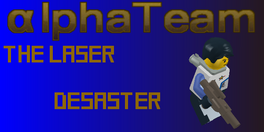 The Laser Desaster is an upcoming online game to be released in 2012-2013. it's based on Mission Laser.
Releasing facts
Edit
The game will be introducted for MLN users in 2012. It will be released for everyone in March 2013.
Main Levels
Edit
Mission 1: Mistery bombs in LEGO City (Beta-version available in October 2012 for MLN users)
Mission 2: The secret hideout
Mission 3: Find Agent Dash!
Mission 4: Adventure at sea
Mission 5: Inferno's Base located
Mission 6: Catch Inferno!
Final-Mission: Destroy the laser
After winning all levels you recive a code to get an access for Deep Sea Mace.
OPS 1: The mysterious disappearing of the easter bunny
OPS 2: Inferno is located
OPS 3: the last fight
(OPS available in January 2013)
Characters appearing
Edit
defes: Amor x3
shid: Shields x3
easter: Easter special ops